+
Futurama will be back!!!!! *happy dance* This news has made my week. I take this knowledge and embrace it, but until I hear more specifics and see it, then I'll really believe it. Still it's fabulous news! 4 new DVD full-length movies! Hurrah!
Get the scoop here
and at Billy West's site
here
.
The tin sign can be found at
ThinkGeek
. And OMFG I *must* aquire *everything*
on this page
! I absolutely love the playing cards, Zapp space gun and beer coasters!
This wind-up Nibbler is fab!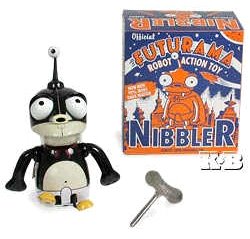 And I *must* get one of these. Heck, they'd make great corporate holiday gifts! ;)