+
WSJ points out some of the troubles with stock photography
.
"We try not to use the same images as other competitors ... if it happened, it happened," says Joan Peloso, marketing services director for Cleveland-based KeyCorp, the bank-based financial services company. Advertisers often don't buy exclusive rights, which are pricier, opening up the risk that others will use the same photos.

Nonexclusive rights to stock photos can cost as little as a $1, whereas the cost of arranging a photo shoot to produce an original picture can easily run into tens of thousands of dollars, given photographers' fees ($1,000 to more than $10,000 a day), the cost of hiring a model and securing a location.
Besides being embarrassing for advertisers, such duplications can make it difficult for consumers to tell brands apart.

"If we all look alike, it is hard for a customer to differentiate between their choices," says Robbyn Tangney, a brand marketing executive with Bank of America Corp.

The companies involved in such mix-ups usually don't know that their images are being used by other firms. And when they find out, if the campaign is a modest one, sometimes they don't care.

"The risk of two people seeing the same image and connecting the dots is very, very low because the exposure of the campaign isn't very, very great," says Gary Shenk, senior vice president of images for Corbis Corp., a Seattle-based digital media agency that licenses stock photos.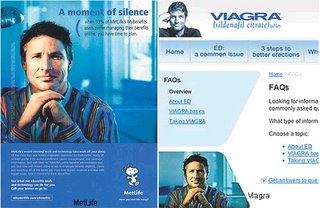 As brands start to embrace new media campaigns and devote larger portions of their budget to the Web, industry executives expect companies to put more emphasis on exclusive pictures.

"People don't always read an ad, but they can't help but see the picture. They are getting impressions of the brand all the time," says Halle Hutchison, head of brand and advertising at Deutsche Telekom AG's T-Mobile USA. "It is just too dangerous, you never want to go two steps back on that."